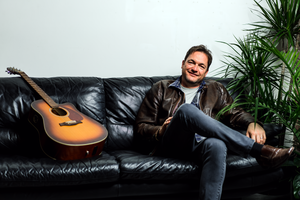 BIOGRAPHY
CHRIS RONALD
FOLK / ROOTS / AMERICANA
Since emigrating from his native England in 2002, Chris Ronald has earned a place as one of Canada's finest singer-songwriters creating and performing Contemporary Folk music. Ronald's stand-out signature sound is steeped in his British background, poetic lyrics, and a buttery fusion of Roots and Americana music.
Ronald first got hooked on songwriting at age 15 when he put to music a poem he wrote in high school, but he only started to go public after he moved to Vancouver in his thirties and self-produced his first albums so he had CDs to sell at the intimate gigs he was playing in and around the city. One of these early works caught the attention of The Georgia Straight who praised Ronald's songwriting and "beautifully clear tenor voice" and wondered "where his obvious talent has been hiding for so long." Encouraged, Ronald decided to go all in on his next project and hired ace producer and multi-instrumentalist John MacArthur Ellis to work on his first full-production studio album. The resulting Timeline (2014) album catapulted Ronald to a new level in his career with, among other accolades, a nomination for "Songwriter of the Year" at the 2014 Canadian Folk Music Awards. Shortly afterward, Ronald was signed to esteemed Canadian folk label Borealis Records to release Fragments (2017) followed by Light & Dark (2021). Both albums achieved top 10 on the FAI Folk Radio chart.
Chris Ronald is an international touring artist giving concerts ranging from solo to full band, though he often appears as a duo with John Ellis. Whatever the format, Chris always draws on his abilities as a highly skilled singer, storyteller and musician (guitar, harmonica, ukulele) to deliver a show that is captivating and unique.
Click button below to listen & buy latest albums.